Learn about fire safety glass for education
When it comes to ensuring the safety of staff, pupils and visitors within schools, colleges and universities fire safety glass for education is vital. Our range of SMART solutions provide fire protection and safety as well as improvements in acoustics and design. Here we discuss how fire safety glass for education can help education facilities create healthier, happier and safer environments.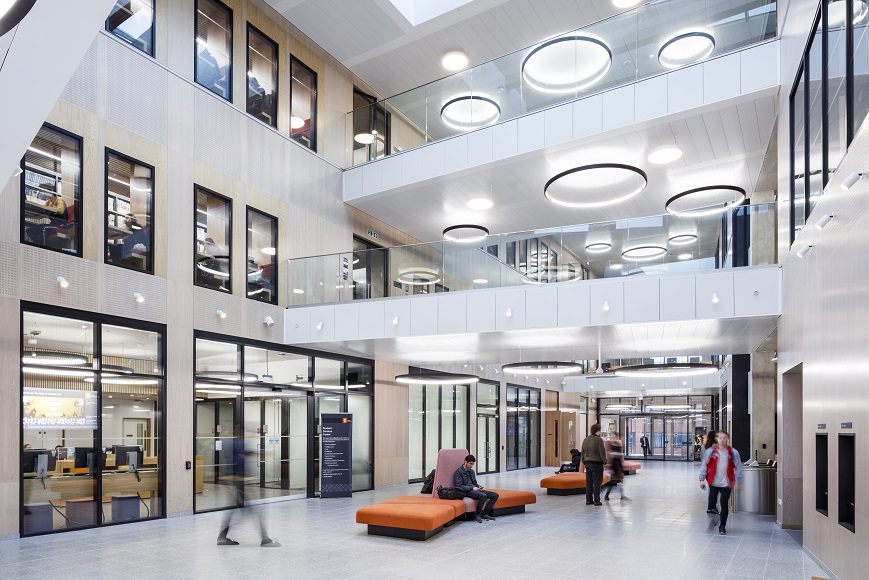 Used for partitions and internal walls, external windows and internal glazed paneling, fire safety glass for education is paramount to the aesthetics, fire protection, acoustics and environment in schools, colleges and universities.
When specifying and installing fire safety glass, there are numerous factors to consider to ensure the optimal solution for both design and safety.
Fire safety in schools
First and foremost, fire protection is the primary concern of glass supplied to the education sector.
Providing passive fire protection, fire safety glass for education helps to prevent the spread of smoke and flames and therefore facilitate the safe evacuation in the unfortunate event of a fire.
In line with the BS EN 13501-2, there are three classifications of fire safety glass. The first, Integrity or 'E' classification is designed and manufactured to perform by stopping flames and smoke penetrating through onto the unexposed side. The second, EW, maintains the same level of protection against smoke and flame, like E, but will also deliver a reduction in the amount of heat transmitted. Finally, EI offers the highest level of protection by also keeping the average temperature increase of the unexposed side to no more than 140°C above its starting temperature by delivering a significant reduction in the amount of heat transferred through the glass.
By installing fire safety glass in fire doors, internal partitions, atriums or windows, facilities managers can slow down the spread of a fire and provide a safe route of escape.
Sound reduction in schools
As large, bustling buildings schools often require sound acoustic control. Therefore, acoustic properties are also a key consideration when specifying fire safety glass. While fire glass panes offer a good level of sound reduction on their own, additional acoustic control is often required so that classrooms, offices or private study areas can benefit from improved acoustics and enable a quiet area for concentration and learning.
To achieve this, fire glass panes can be integrated into a unit with a laminated acoustic counterpane. This provides a good level of sound reduction and meets acoustic standards for schools, such as those found in Building Bulletin 93 (BB93).
Sustainability in education
As with many other sectors and buildings, education facilities are now focusing on the sustainability of their designs and sourced materials. As such, fire glass solutions must be sustainable without compromising on style and specification.
To realise this and where the organisation looks to achieve BREEAM and LEED accreditations, toughened monolithic and laminated glass products have a BRE verified Environmental Product Declaration (EPD) detailing the lifecycle analysis of the product.
A clear learning environment
Glass can have a pivotal role to play in both the internal and external aesthetics of any building. This is especially true of educational facilities, where both a clear and focused space for learning yet aesthetically pleasing design is required. By admitting high levels of natural light, fire glass solutions can improve the health, concentration and even test scores of pupils, thus creating a positive learning environment. Meanwhile, by flooding classrooms or learning spaces with light, glass also helps to create modern, airy spaces that improve the aesthetics of the space and contribute to the architectural style required.
Pyroguard and fire safety glass for education
How then do facilities managers meet the requirements of the education sector? Pyroguard fire safety glass for education enables architects to benefit from the assurances of fire protection and acoustic control as well as providing the design and environmental requirements that are paramount to the sector.
Our work with Marr College demonstrates how fire safety glass for education can meet the desired design requirements as well as providing adequate fire protection and safety.
You can find out more about fire glass for education here or by contacting our expert team.