Pyroguard Infinity: The smart choice
Pyroguard Infinity is our range of high-performance fire safety glass certified for seamless joint applications. In this blog, we chat with Simon Ellison, Technical Support Manager to find out more about why Pyroguard Infinity is the smart choice when it comes to glass-to-glass partitioning and structural wall systems.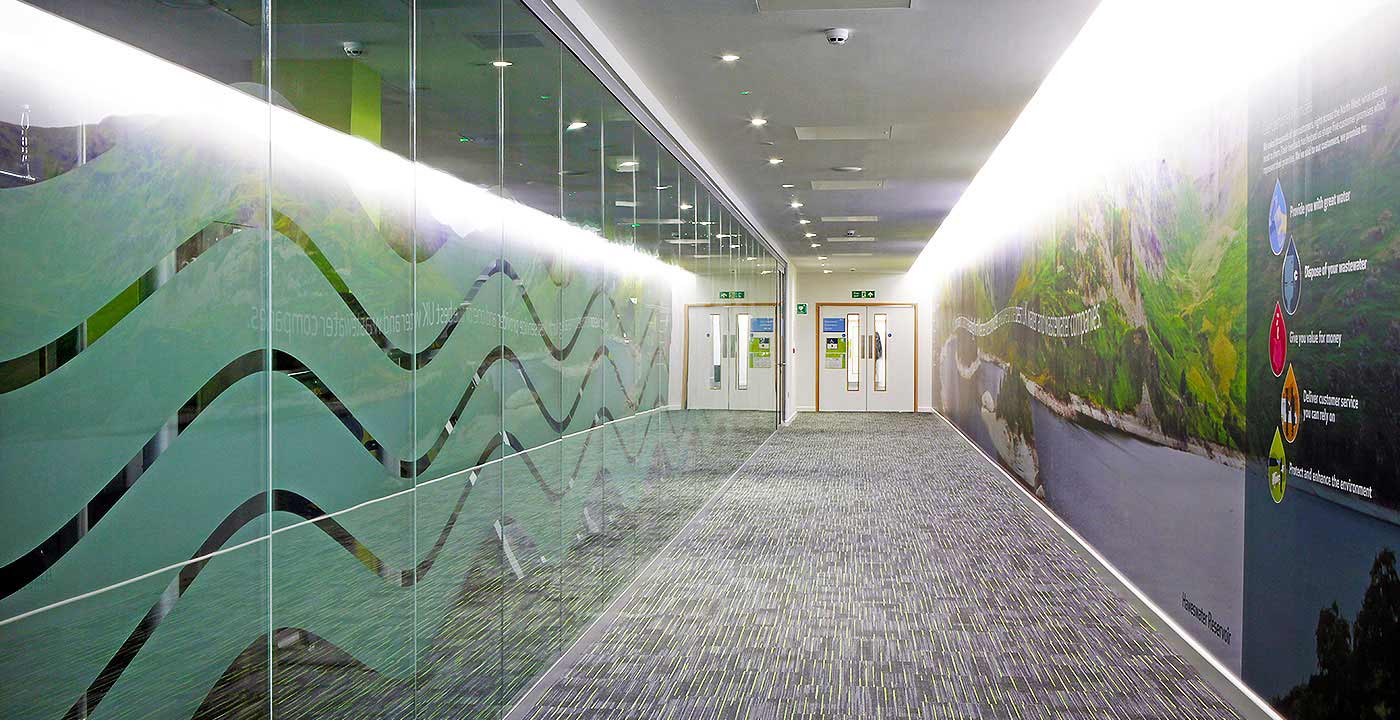 Q: What are the benefits of butt-joint glass applications?
We all know that glass forms a key part of modern-day building architecture, largely due to the ability to bring light into a space and create an open airy feel.
In standard glazed systems, the metal framework can be at odds with this aesthetic vision, not only adding considerable weight but also detracting from the overall look. It is here where butt-joint applications come into play, eliminating the need for vertical frame profiles and helping to provide a seamless, more visually appealing glazed partition.
We can provide two different types of butt-joint applications: glass-to-glass partitioning and structural wall systems.
Structural wall systems are double-glazed units that are housed in a suitably tested framing system or construction that together form the exterior curtain wall or building façade.  They can also be used internally to form atriums as single glazed units.
Glass-to-glass partitioning comprises of slim, transparent butt-joints, providing a seamless and minimalistic appearance. These are typically seen in large open-plan or other commercial spaces where separate functional areas or zones are required, such as meeting rooms, offices or even staff well-being areas. Glass to glass partitioning can also offer an effective means of compartmentation, helping to control the spread of a fire, as well as create a safe means of escape.
Whichever construction or specification is chosen, this can form an essential part of contemporary building design, enabling architects to create the clean design lines and light, open spaces that are so in demand, whilst ensuring the correct levels of fire protection are met.
Q: How does Pyroguard Infinity fit into this?
With the benefits of butt-joint applications in mind, Pyroguard Infinity was developed to help architects balance building safety with aesthetic demand. While there is still a fire-resistant frame, this can be hidden in the wall, floor or ceiling, creating that seamless finish.
Providing aesthetically pleasing passive fire protection, Pyroguard Infinity can offer an EW (Integrity and Radiation) and EI (Integrity and Insulation) classification, meaning that it has the potential to deliver the highest possible levels of protection against smoke, fire and heat transfer, whilst maintaining optimal light transmission.
Independently fire tested to BS 476: Part 22:1987 and BS EN 1363-, it also meets impact classification 1B1, according to EN 12600:2002, and is suitable for both timber and steel applications.
Q: What type of building applications can Pyroguard Infinity be used in?
While Pyroguard Infinity can be used in all types of building, it's perhaps most commonly found in education and commercial buildings. Both are environments where there can be the need to separate the interior space into different zones and areas, whether that's a classroom or office boardroom.
Through the use of fire safety glass, architects can create the feeling of collaboration and open spaces, while also having clearly separate zones and ensuring the safety of occupants.
Q: Is it possible to push the specification even further, to achieve additional performance criteria?
With the correct technical advice and expertise, we've helped countless customers benefit from the multi-functional capabilities of our fire safety glass products.
For example, with Pyroguard Infinity being a popular application choice in schools and offices, it's understandable that acoustics can be a fundamental consideration as part of the build. Here, by interchanging an acoustic counterpane into a system, you can achieve effective sound reduction. Likewise, built-in privacy blinds, switchable glass and screen printed or decorated glass can be other requirements, all of which can be achieved through the selection of the correct system.
Offering complete flexibility, any design aspiration can be met with Pyroguard Infinity.
To discuss your next project, contact us today or for further information on Pyroguard Infinity, why not download our new brochure.