Meet Sharon Gill, Customer Service Manager at Pyroguard
Sharon Gill is our UK Customer Service Manager here at Pyroguard and has been with the company for almost two years. Responsible for ensuring that her team provides first class service to our customers, we caught up with Sharon to learn more about her role.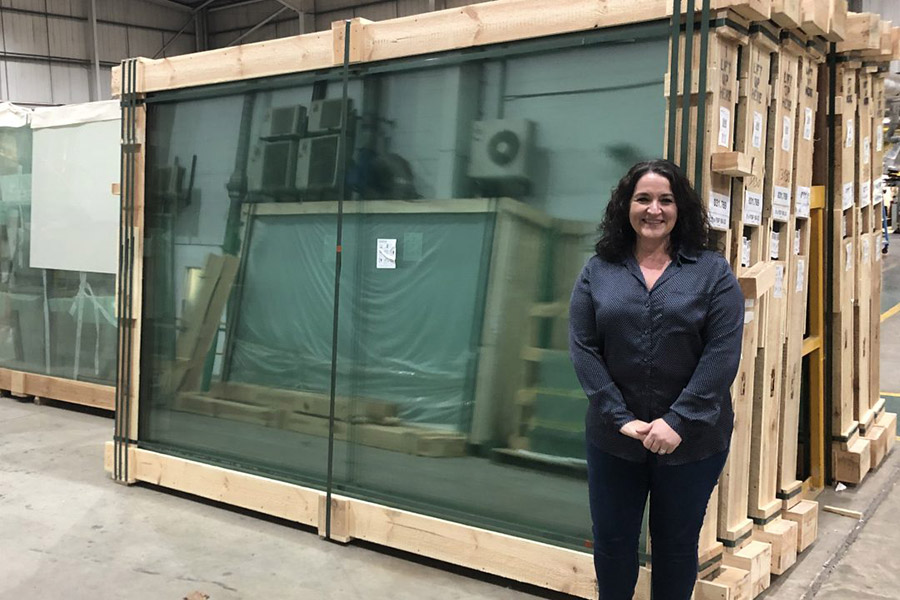 As Pyroguard's UK Customer Service Manager, what does your role entail?
First and foremost, my role is about ensuring our team delivers flawless communication and top-notch customer service. We support contractors, installers and fabricators, as well as our nationwide distribution network of stockists and glass processors and our UK project sales team, who provide bespoke solutions to the construction industry. I am responsible for ensuring that our customers' orders are processed and dispatched efficiently and in a well-controlled manner.
Building strong customer relationships through good communication is fundamental to this and we make sure that our customers are kept up to date with their orders at every step of the process. I have daily meetings with our production and operations team, as well as regular quality control meetings with our research and development team, to ensure we're fully up to speed.
How have you developed your team during your time in this role?
Well, this year has certainly been somewhat different to what we all had anticipated, but we have remained committed to supporting our customers throughout the recent challenging times. Like many across the country, we adapted and set up remote working environments to make sure that the communication between my team and our customers did not subside.
I've also reorganised some of our responsibilities internally, so that my team members have the time to focus purely on delivering a brilliant service to their customer bases. We have received really positive feedback about how our communication has improved, which has translated into better service. In fact, at the end of last year, we conducted a survey with our customers and the results were really positive! It shows that we are definitely moving in the right direction.
You and your team are pretty much on the 'front line' at Pyroguard. So, what do you enjoy about your role?
I've worked in customer services since I was 16 and I've never stopped enjoying the satisfaction that comes from completing orders, ensuring our customers' needs are met and that they are happy with the service they are receiving.
As a manager, I really enjoy being the key person for my team to come to for help or advice; I'm approachable and personable, so I think that helps. The fact we are a small, close team also keeps me going. I love that we are all there for each other!
Being a part of 'Team Orange' is great too. Pyroguard is a great company to work for and I think the solutions we produce are fantastic. I especially enjoy watching the manufacturing process of our fire safety glass – right the way through from it being ordered, to being produced in the factory and then seeing it actually installed on some incredible buildings around the world. It's fascinating.
As Pyroguard operates in various countries across Europe, you aren't the only customer service team. How do you work together with your colleagues abroad to supply and support any export or overseas shipments and orders?
Yes, we have customer service teams in France, The Netherlands and Iberia, and we have a very close working relationship with them all. Although there are thousands of miles between us and time differences, we keep momentum going with daily Zoom meetings to talk to each other about recent orders and to discuss any potential issues – so we are all on the same page.
Thinking about it, I think we have this brilliant relationship because we are all working to one goal: to keep our customers happy!
If you had to describe Pyroguard to a potential new customer, what would it be?
One of our key messages at Pyroguard is 'you're in safe hands' and I can vouch for that. The fire safety glass we produce is of the highest quality and the technical knowledge and advice we can provide to customers is excellent.
What has been your favourite memory at Pyroguard?
Every year we have our annual sales conference and this year was my first one. It is attended by all sales and customer facing colleagues from across Europe and the day consists of a review of the past year, where we are now and where we want to be in the future. We also get the chance to spend valuable time with our colleagues doing some fun team building exercises. It was a fantastic day and a great opportunity to meet the rest of 'Team Orange'. With everything that's happened this year it really makes you appreciate the importance of face-to-face time with your colleagues and I can't wait for the next one – when we're all able to meet up in person again, of course.
Lastly, when you're not busy keeping Pyroguard's customers happy, what do you like to do to relax?
I like to keep myself fit, so I attend my local gym three times a week to take part in classes; I really enjoy spinning, as well as a dance workout class called Sh-bam. It's similar to Zumba and really fun!
I also love spending quality time with my husband, Chris, and our two little girls, Caitlin and Erin. When we can, we like to travel up to Scotland to see my family – as I am from a little village, just outside of Edinburgh – and going on camping trips. We normally take our girls camping every year either to France or Spain, and we had planned on retuning to Spain this year, as the girls love it. Unfortunately, we did have to cancel the holiday, but we'll hopefully get there next year. We can't wait!