Laminated vs. monolithic safety glass: a Pyroguard Q&A
Following the ban on laminated glass in balustrade applications, some within the building industry appear to have moved away and found an alternative solution, reverting to monolithic (i.e. single pane) toughened glass. However, monolithic glass isn't without its safety risks in high-rise residential buildings.
Read on, as Andy Lake, our UK & IRE Sales Director and Darryl Holloway, Architectural Sales Manager at Q-Railing explain more in this blog…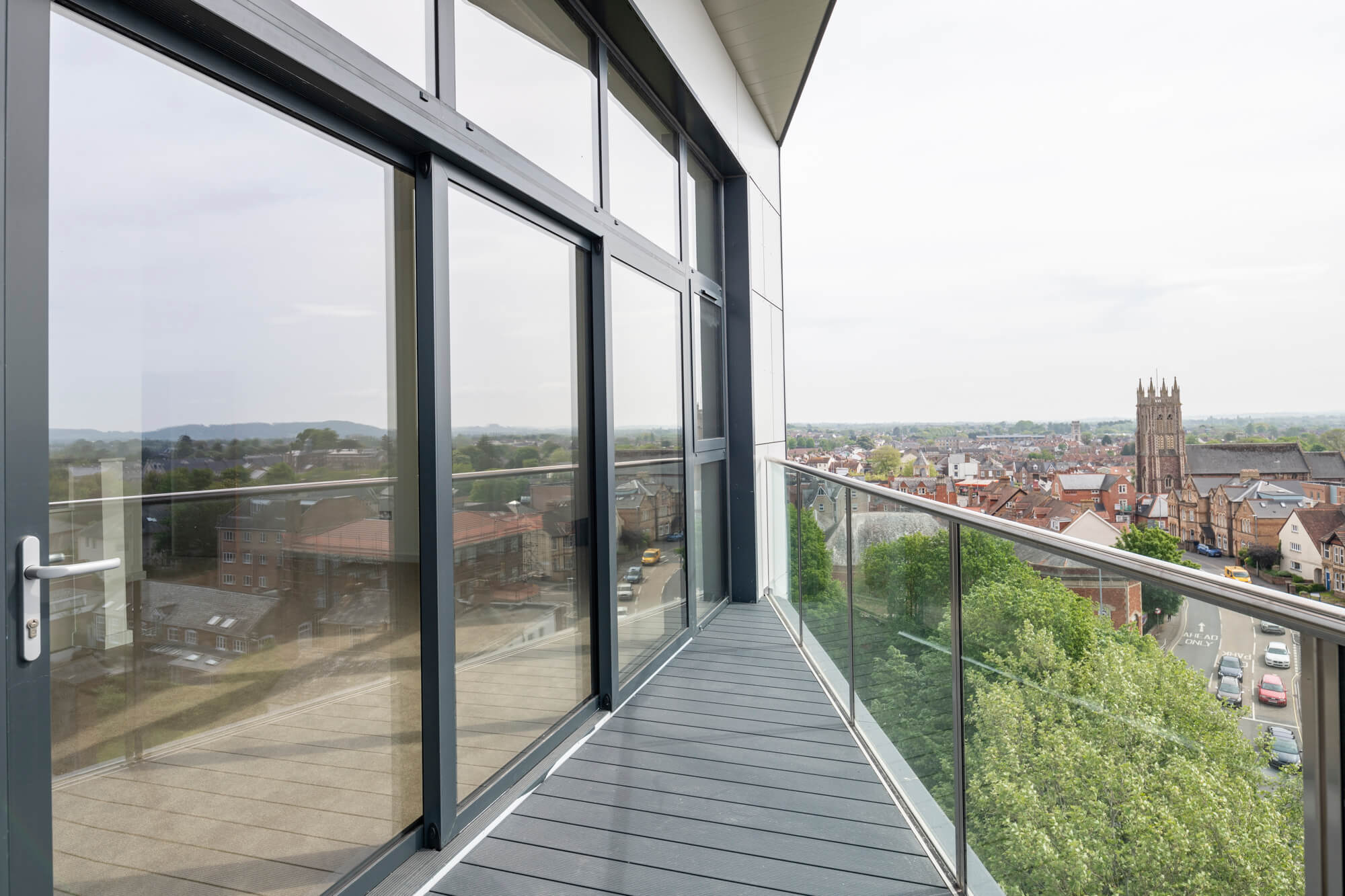 Q) What is the situation happening on the ground? What are you seeing on construction sites?
We're extremely concerned to once again see monolithic toughened safety glass being specified, installed and signed off on new high-rise development buildings, putting people's safety at risk.
There was a time when the glazing industry had purposefully chosen to move away from monolithic glass to laminated glass for high-rise balustrade applications, due to improved safety. However, this is a trend that now appears to have reversed, with the industry having taken a step back and begun to reintroduce single pane monolithic glass into these applications – something that is greatly alarming for everyone involved.
Q) Why does monolithic glass present safety risks in these high-rise buildings?
Single pane toughened glass, otherwise known as monolithic glass, is known to occasionally spontaneously break. In high-rise balustrade applications, once broken it has a high likelihood of falling from height, due to its low residual strength. Understandably, this brings with it two major safety concerns. First is the risk to occupants and building users, with a hole or gap in the glass barrier meaning that someone could potentially fall through or injure themselves. Second is the risk to the general public at ground level below, with falling glass debris.
It is for this reason that a different kind of laminated toughened glass, using a chemically engineered, non-flammable interlayer, is surely the safer choice. Strong enough to accommodate high mechanical stresses, the fact that there are multiple panes (or plies) in the system means that even in the event one ply breaks, the glass will still remain rigid and in place, retaining its strength and durability.
Q) What are the implications of this for the glazing industry?
In many ways, it appears the industry has taken two steps forward and one step back, with a detrimental impact on safety standards as a result. It's important to balance both fire safety and general safety standards, including fall risks – however, the reintroduction of single pane monolithic glass does not do this.
Put simply, the ban on one product, due to concerns it could aid the spread of fire, has now led to a product being specified that also has safety and fall risks. Whether this shift is due to value engineering or just general confusion over the ever-changing standards, regulations and goal posts, it is difficult to say.
What we can say is that it's imperative that, while we focus on the new toughened specification requirements from a fire safety point of view, we do not let other safety standards slip.
Q) But I thought the use of laminated glass was banned, following the Grenfell disaster?
Yes, you are correct. Following Grenfell and the subsequent amendment of Part B of the Building Regulations, a ban was placed on the use of certain laminated glass systems on high-rise residential balconies and terraces over 18 metres tall – since revised to be 11 metres. This ban was due to the interlayer used in some systems, with the potential for it to melt under extreme heat conditions and form flammable liquid droplets. These droplets could then fall onto the balcony and floor below, further spreading the fire through the building.
However, thanks to market developments and vigorous testing programmes, there are now laminated glass products available that have a fire-rated and non-combustible interlayer.
Q)  What alternative solutions are available, helping to meet both safety and fire safety concerns?
In collaboration with our partner, Q-Railing, we believe that specifically designed laminated glass with fire safe properties are the only solutions for our high-rise residential buildings.
With over 30 years' experience in fire safety glass and utilising our engineered fire-resistant interlayer, which is present in our wider portfolio of products, we were able to develop Pyroguard Balustrades. An inherently non-combustible safety glass solution, Pyroguard Balustrades has a reaction to fire rating of A2-s1, d0, as well as an impact rating of 1B1.
For more information or for support on specifying the right fire safety glass solution for your project, speak to our team today…