Expertise in action: Meet the Technical Team
With the fire safety industry constantly evolving, the need for advanced fire protection has become more pressing than ever. With this in mind, we caught up with Simon Ellison, our Technical Support Manager, to learn about how our technical team is adapting to industry demands whilst still ensuring our products meet the highest fire safety standards…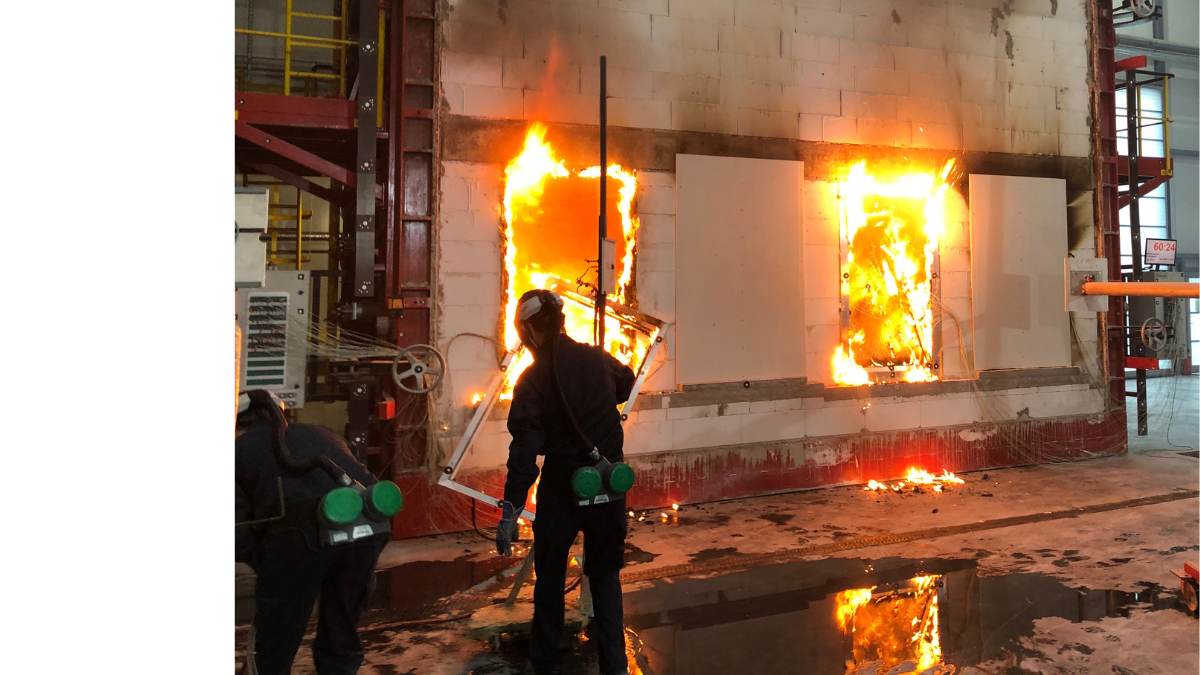 Can you give us an insight into your department and discuss how the team has evolved?
Certainly, we're an established team that currently has over 30 years of specialist fire safety glass knowledge and technical expertise behind us. It was also in 2018 that we saw the appointment of Dr Richard Ainsworth who's now Chief Technical Officer of the Technical Fire Safety Group, and we've gone from strength to strength under his leadership and experience in product development, testing and certification.
An important part of what we do always begins with product research and development in the UK. Dr Vince Crook, our Technical Development Director, leads our R&D team, developing the interlayer technology and managing our intellectual property. The challenge is to transfer laboratory scale advancement to full scale fire tests so physical tests are, of course, an integral part of this work as we learn so much about the glass performance. Our dedicated research scientists, Dr John Holland and Dr Maje Haruna, play a key role in this.
Our close working relationship with our French technical team is key to the success of this scale up. This gives us direct access to additional information about how products behave in systems. Claude Campus and Maxime Hector form our French lab team and with their combined knowledge and understanding of fire tests helps us to facilitate this product development along with pre-tests for new system designs.
Another big part of our work is product support. Our technical team answer hundreds of enquiries each week ranging from installation support, product selection, photometric calculations and test programme planning. A recent addition to the team is Chris Barr, he is our façade and glass technology expert. Chris's experience in architecture and system test design, means we can help customers and framing partners develop bespoke solutions and get them tested and to market quickly.
With significant growth in high rise buildings and complex structures, we are often called upon for our 'in-depth' knowledge and expertise to support such installations. It's my job, and the job of my team to provide technical advice internally and externally, both in the UK and abroad. I'm also responsible for managing our testing programme; we're always being challenged to develop new and innovative solutions, and with the support of my colleagues, here in the UK and in France, we're able to provide specialist advice right from initial concept through to certification.
It's this niche set of expertise that gives us the ability to help customers meet even the most demanding of project requirements.
Can you talk about how the team's experience and technical know-how has helped to fulfil the demands of a project with bespoke requirements?
Sure, one of the first projects that springs to mind is an exciting art storage facility we recently worked on in The Netherlands.
The Depot Boijmans Van Beuningen presented us with a unique set of challenges, in that we were tasked with developing a fire safety system that not only protected the safety of the staff and visitors but also the valuable contents of the depot itself.
To put the project into perspective, the building is 40 metres high and curves upwards and outwards with mirrored panels around the circumference. This architectural design continues internally, with large open spaces constructed mainly of glass to give the visitors an impression of great scale and allow the collections to be seen from the staircase and landings. This meant that we were dealing with very large pane sizes – some weighing over 1000kg – something that hadn't previously been tested or even manufactured before.
Working closely with the fabricator, our team were able to design a glazing system that would provide 60 minutes of fire protection, as well as incorporate an additional multi-functional layer, for added burglary resistance.
Our close partnership with Efectis, France enabled us to plan a project specific fire test. This allowed us to prove the performance of this new and bespoke system, ensuring its success in line with our customers' requirements.
Communication must be a key part of your success, both as a department and on a company-wide level. How do you stay connected?
As a global company, it is important that we're able to share our knowledge and experiences so we can provide our fellow employees and customers with the best support.
Cross-functional communication is a fundamental element of this as it is then cascaded in various formats and languages making everything we do easily accessible to all across The Technical Fire Safety Group.
We achieve this through internal bulletins which also form the basis of our online blog and we hold regular training sessions that provide the teams an opportunity to share their knowledge and experiences no matter where they are in the world. We offer one to one technical support internally and externally ensuring our colleagues, partners and customers all have access to the latest product information, test evidence and industry developments.
Interested in learning more about our Technical Team? Keep your eyes peeled for our next technical blog, where Simon gives us the low down on our testing programme and provides a sneak peek into some exciting new product developments…