Delivering the glass atrium look
Look inside many of our modern office buildings and what do you see? Glass atriums are becoming a common design feature, used by architects to create a striking focal point. In this column from Pyroguard, Andy Lake, Sales Director UK & Ireland, explores the factors to consider when approaching a glazed atrium project, from fire glass classifications and aesthetics to acoustics and impact resistance.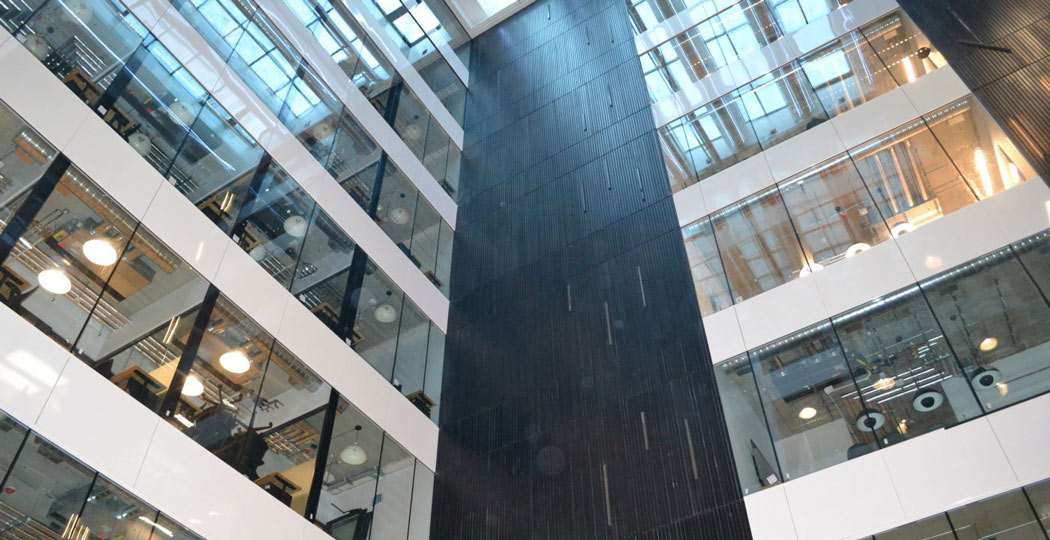 Glass is certainly a popular building material within the construction industry and it's easy to see why, used to help create light, open and contemporary spaces. Perhaps, therefore, it is the perfect match for the construction of atriums, creating that striking, statement feature that works to open up the building space. That said, it's not just aesthetics that need to be considered when it comes to glazed atriums, but also the safety of the building and its occupants too.
Fortunately, with the correct fire safety glass solutions and the right technical advice, both aesthetics and safety can be achieved – and much more.
Safety first
Specified and installed correctly, fire safety glass can be an important part of a building's passive fire protection strategy. With an atrium often positioned centrally within a building, installing fire safety glass here could be instrumental in helping to prevent the spread of fire, as well as creating a safe escape route for occupants.
When it comes to fire safety glass, there are three standard European classifications to be aware of, each with its own level of performance. E (Integrity) offers the base level of performance, preventing the passage of flames or hot gases. EW (Integrity and Radiation) maintains the same level of protection as E but will also deliver a reduction in the amount of radiated heat. While EI (integrity and Insulation) offers the highest level of protection. As well as providing a strong barrier against smoke, flame and hot gases, EI will deliver a significant reduction in the amount of heat transferred through. The classification required can depend on the individual application and the relevant building regulations should always be consulted for further guidance.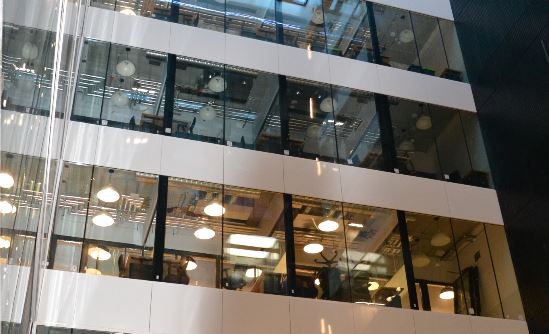 As well as protection against fire, there are also other safety aspects to be considered when it comes to constructing glazed atriums. For example, given that office buildings can be many storeys high, considering line loads and ensuring that the glass installed is impact resistant is key, capable of withstanding people leaning on it or the consequences of a trip or fall. Look for glass that has been classified to the appropriate classification of impact resistance, according to BS EN 12600.
Aesthetics
Of course, given an atrium will often have been chosen for its architectural impact, it's important that this aesthetic isn't compromised through the specification of fire safety glass. A key part of this is the size of the glass panels used.
Standard, non-fire-rated glass can be manufactured to impressively large dimensions, helping to create the sleek aesthetic expected from a façade system. Whereas fire safety glass can differ in size throughout the market, with the potential for there to be a mixture of pane sizes used in the final façade. Fortunately, some fire safety glass manufacturers, including Pyroguard, are well aware of this concern and so test their glass solutions to the maximum size possible, ensuring that it can provide a suitable and equivalent alternative to non-fire-rated products.
Another way to ensure that the atrium's overall aesthetic is not compromised can be to opt for fire safety glass that is manufactured, tested and certified for butt-joint applications. Understandably, having large amounts of framing and metalwork within the main face of the atrium can detract from the overall look and effect, and so is something to be avoided where possible. Here, innovative solutions, such as Pyroguard Infinity, that require no vertical frame profiles can deliver on the sleek, seamless look.
Acoustics
It's also important to consider how the building will be used once construction is complete, ensuring that people's experience of the space is a positive one. Within offices, good acoustics is understandably an important consideration, helping to create a quiet and productive environment.
Here, again, fire safety glass can help, thanks to its multi-functional capabilities. With the correct technical expertise and guidance, it is possible to incorporate additional glass layers and counterpanes into the fire glazing system, helping to do everything from enhancing the sound-deadening properties to adding a unique design twist, in the event of coloured, etched or even screen-printed glass interlayers.
Glass atriums will likely continue to be a common feature of modern building design, particularly within the commercial sector. Delivering on this sleek and impactful aesthetic, while also ensuring the safety of a building's occupants, can require a careful balancing act, with fire safety glass an ideal material for the job.
For more information, please visit our website here