Bringing glass back into balconies
An attractive design feature, glass balconies are the perfect solution to add privacy to outdoor spaces in high-rise living. In this feature,  we explore how glass can be used safely in balcony applications following the amendments to Approved Document B, as well as the various factors for housebuilders and developers to consider when ensuring the right solution is specified.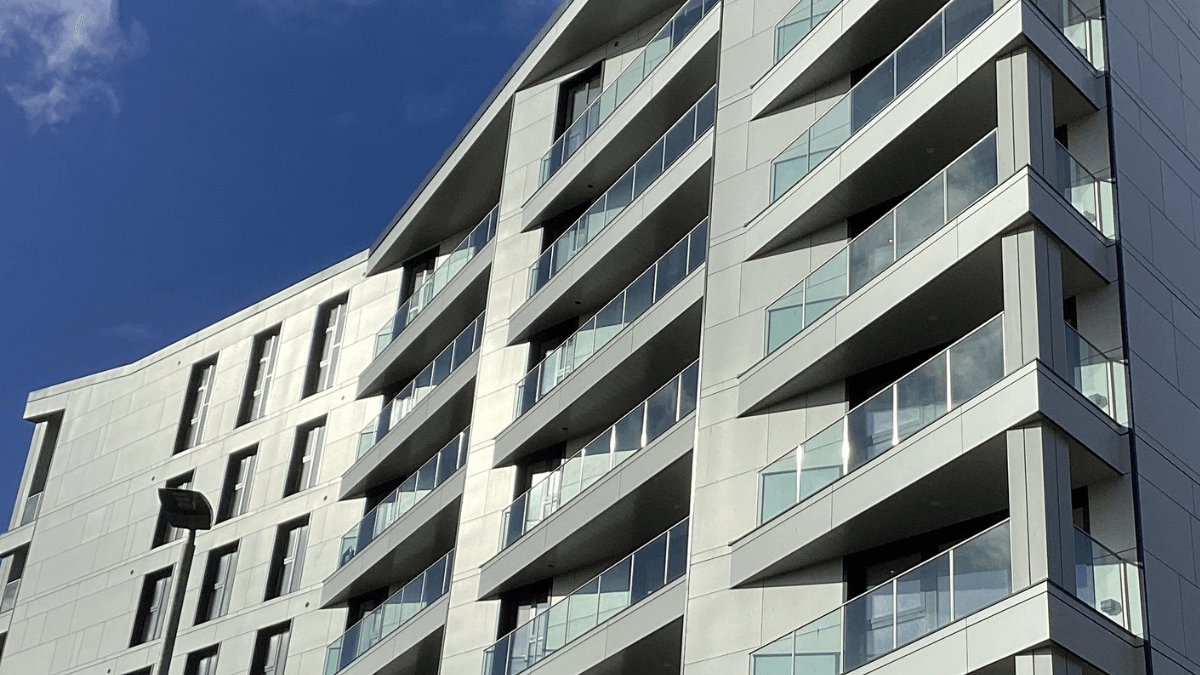 It's no secret that housebuilders and developers are being faced with a competitive housing market, with discerning homebuyers wanting more for their money. As our towns and cities become increasingly crowded, high-rise apartment buildings are becoming a common sight, enabling developers to build upwards rather than outwards. A key feature of these luxurious, contemporary developments can be balconies, with glass an ideal building material for their construction. Not only do glass balconies help to bring more natural light into the individual apartments and offer a striking exterior feature, they also provide residents with access to their own private outdoor space – something that is at a premium.
However, following the Grenfell disaster of 2017 and the subsequent amendment of Part B of the Building Regulations, a ban was placed on the use of laminated glass on high-rise residential balconies and terraces over 18 metres tall. As such, architects and developers have since had to look to other materials for the construction of their balconies, such as steel. However, while these alternatives did comply with the new regulations, they did not always offer as much aesthetic value.
Now, thanks to developments in the market, glass can be re-established as a design solution and brought back into these applications. Of course, there are numerous factors for housebuilders and developers to first consider to ensure that it is done safely.
Fire safety
Previously, the reason for the ban on laminated safety glass was due to the interlayer between the individual glass counterpanes, which formed its construction. This interlayer, commonly made from PVB, could melt in extreme heat and form flammable liquid droplets, with the risk of these droplets then falling to the balcony and floor below and igniting other material, causing the blaze to spread even further.
By looking for safety glass that has Reaction to Fire classification A1 or A2, housebuilders and developers can be confident that the glass and interlayer will not combust in the unfortunate event of a fire.
Impact Resistance
In addition to fire safety, any glass installed has to offer impact resistance, in accordance with BS EN 12600. Given the high-rise residential living setting, ensuring residents' safety is imperative. The glass is of course first and foremost a safety product, before any architectural or aesthetic value, and therefore has to meet the relevant line load requirements. For example, if someone leaned on the glass or even fell into the balcony, it is critical that the glass will hold and not shatter.
UV Stability
Another consideration when specifying glass within balconies is its UV stability. Considering its position on the exterior of a high-rise building, building materials in these applications will be exposed to all weather conditions, from UV sunlight and heat to rain and wind.
Indeed, perhaps one of the most common issues experienced throughout the fenestration industry is weathering. When it comes to safety glass, the gel layers in some glass can react and be affected by long-term exposure to UV light or heat, causing the glass to yellow or appear hazy. With glass often being selected for its aesthetic and architectural value, it's important to ensure that this value is protected and won't deteriorate over time.
According to the regulations, safety glass products should be tested to the relevant industry standards for weathering: ISO 12543-4:2011. A means of accelerated testing, glass samples are placed into chambers within a controlled laboratory environment and subjected to varying degrees of heat, humidity and UV light. However, while these tests will tell you if the products pass or fail in terms of weathering, it does not always tell the full story. To more accurately predict how safety glass will perform in the real-world, housebuilders and developers should try to partner with suppliers who subject their products to real world weathering testing. For example, Pyroguard conduct real weather tests in the Arizonian desert, with its toughened fire safety glass exposed to intense UV radiation and air temperatures.
What's more, some safety glass products can be manufactured with a solar control or UV-stable coating within the system, helping to reflect the UV light away from the glass.
Pyroguard Balustrade is Pyroguard's new safety glass solution for balustrade and balcony applications, making it one of the only glass manufacturers to offer such a product – patent pending. Using its 30 years' experience in fire safety glass, Pyroguard was able to utilise the intumescent gel interlayer used in its range of fire safety glass products, making the Pyroguard Balustrade safety glass solution inherently non-combustible.
Pyroguard Balustrade was recently the product of choice on the Quantock House development, a residential development exclusively for the over 55's. One of the first UK projects to feature an NHBC accepted A2-s1 glass balustrade system installed in its apartment balconies, it is the result of a close working partnership between Pyroguard and Architectural Metalwork Installations Limited (AMI).
For more information, please contact us.